(Hours 1b,c)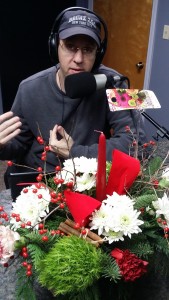 Rich started the segment by telling our listeners about tomorrow's Christmas show.  We were then joined by Jon DiPietro of Liberty Digital Marketing for Web Savvy.  We were reminded about his segment about decryption and he shared about a back door that was breached soon after his segment.  He told us that you can't have a backdoor without making yourself vulnerable.
[soundcloud url="https://api.soundcloud.com/tracks/238939832″ params="auto_play=false&hide_related=false&show_comments=true&show_user=true&show_reposts=false&visual=true" width="100%" height="450″ iframe="true" /]
(Hour 1c) We continued with Jon DiPietro for a second segment.  He talked to us about Facebook and how they are taking over the business world.  He informed us that the powerhouse has gone past just being a social media site and has become infrastructure.  He talked about a new feature and a partnership with Uber.
[soundcloud url="https://api.soundcloud.com/tracks/238939837″ params="auto_play=false&hide_related=false&show_comments=true&show_user=true&show_reposts=false&visual=true" width="100%" height="450″ iframe="true" /]